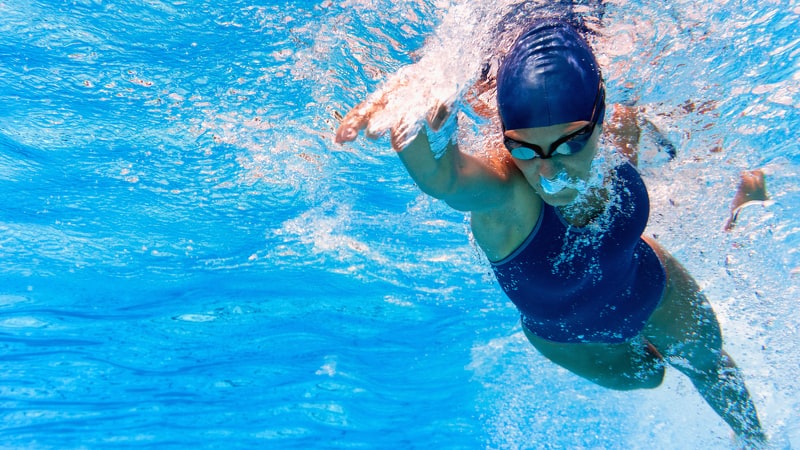 I stood on the pool deck, without my glasses, squinting at the four lanes marked leisure, slow, medium, and fast. A man powered through the water in the fast section, performed a swimmer's flip at the deep end wall, and motored back in a long, smooth front crawl.
"Nope, definitely not going in that lane," I thought, slightly intimidated.
A third of the pool was apportioned to the leisure lane where a half dozen people clutched swim noodles or puddled slowly in the deep end or hung on to the side wall kicking their legs. One person took a few strokes, stopped, looked around and continued on, leisurely.
On a previous occasion I'd tried to swim lengths in that section but had been booted out by a lifeguard. Embarrassed, I checked with the pool staff to find out what defined lane speeds. The main thing, they said, is the leisure section is reserved for non-swimmers. I was welcome to choose any other lane.
The medium and fast lanes were about 1/6th the pool size and the medium lane already had five people swimming lengths in a space that was barely two-people wide. I dropped into the slow lane, the same size as the leisure section, pulled my goggles over my eyes and pushed off to start my slow warm-up front crawl.
I was not the fastest swimmer in the slow lane. That honour went to two speedier Speedo clad men.
After completing two lengths, I stopped at the shallow end to adjust my leaking goggles. Two feet away, a large man bellowed "Why you not read sign?" He jabbed a finger at the "slow" sign.
"Pardon?"
He roared the same thing again. Beside him, on the leisure side of the lane rope, another man smirked and nodded vigourously.
For a third time the man yelled "Read sign." His buddy grinned, appearing to enjoy the confrontation and me being put in my place. While I scowled at the yeller, several swimmers moved around us and continued their laps, steadily breaststroking, crawling, backstroking. Clearly I was being made an example. He was using his loud voice and his size to instruct me and everyone around us.
"Read sign," he shouted again.
Slow and loud, I said "It's too crowded. It's not safe."
I pulled the goggles over my eyes and stared at him and his sidekick. I hoped my eyes were bugging out making me look crazed and dangerous. I hesitated for a moment, waiting for a lifeguard to tap me on the shoulder and tell me to move to another lane.
"Pfft," he puffed and waved his hands as though pushing me out of the way.
Another steady swimmer eddied around us and  thrust off the wall.
"Pfft," I huffed back.
I checked the water in front of me and shoved myself into the lane. I adjusted my speed so I wouldn't collide with the person ahead. I concentrated on pulling my arms through the water, kicking my legs and feet, making small splashes, and turning my head to the left for breath, taking as much space as I needed to swim.
My heart thumped, not from exertion but anger. Did he single me out because I was a woman? There were an equal number of men and women swimming. He only confronted me.
At the deep end I stopped to locate him. Would he deliberately bump into me? Would he yell at me again? Would he enlist a lifeguard to shunt me into the overcrowded medium lane? When I returned to the shallow end, there he was still slouched against the wall glaring at me.
"Is that how you treat women where you come from?" I thought.
And then I felt ill. Reflexively, I'd "othered" him. How could I think that? His accent didn't make him an asshole. He was a bully, plain and simple. A name-caller. A space-claimer. Get out of my way because I told you to. He didn't have the guts to confront a man so he found a grey-haired woman he thought he could scare into her place. I'd met bullies before. 99% of them were Canadian, as he probably was – accent or not.
I swam on while he clung to the shallow end wall.
My reflexive thought has been troubling me since. Where did it come from? More importantly, how do I get rid of it?